Rotes in the neighbourhood / Anderen Route in der Nähe
Cykelturistleder i grannskapet

Cycle Tourist Routes in the vicinity
Fahrradwanderwege in der Umgebung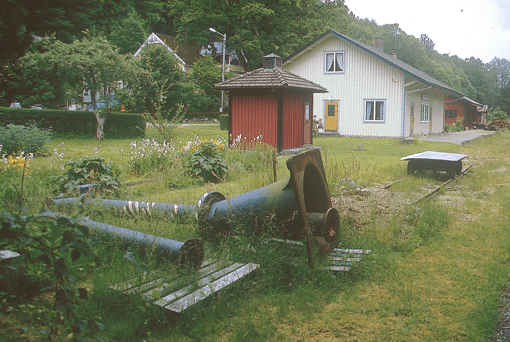 Stationen i Hovmansbygd med pågående
restaurering inom Karlshamn-Vislanda
Järnvägssällskap.
The station at Hovmansbygd with ongoing
restoration work by the Karlshamn-Vislanda
Railway Society.
Der Bahnhof in Hovmansbygd wird restauriert
im Rahmen der Karlshamn-Vislanda-Eisen-
bahngesellschaft.

SCS
Banvallsleden (BVL) håller samman ledsträckningen längs Halmstad-Bolmens järnväg samt Vislandabanan (Karlshamn-Vislanda-Bolmen). Flera andra cykeltu­ristleder finns i grannskapet, några går bitvis på delar av banvallen parallellt med BVL.
I väster kring Halmstad finner du Hylteslingan. Cent­ralt från Alvesta ansluter Sverigeleden och lite längre söderut Kronobergstrampen och Åsnen Runt. Hylteslingan har ett längre parti längs banvallen ut från Halmstad och Sverigeleden är samskyltad med BVL mellan Alvesta och Torne samt mellan Hovmansbygd och Svängsta. Kartmaterial över flertalet av dessa leder kan beställas från SCS. Längs kusterna i väster och öster har två nya ledsystem växt fram - Kattegattleden respektive Sydostleden.
The Embankment Cycle Way (ECW) holds together the route along the Halmstad-Bolmen railway and the Vislanda railway (Karlshamn-Vislanda-Bolmen). There are several other cycle tourist routes in the vicinity, some here and there on railway embankments running parallel to ECW.
To the west around Halmstad you can find Hylteslingan. From the centre of Alvesta you can join Sverigeleden (the Sweden Trail), and a little further south are Kronobergstrampen and Åsnen Runt. Hylteslingan has a long stretch along the embankment from Halmstad, and Sverigeleden shares sign-posts with ECW between Alvesta and Torne as well as between Hovmansbygd and Svängsta. Maps of several of these trails can be ordered from SCS.

Der Bahndammweg (BVL) vereinigt die Strecke der Halmstad-Bolmens-Bahn u. der Vislanda-Bahn (Karlshamn-Vislanda-Bolmen). Mehrere andere Fahrradtouristen-Wanderwege gibt es in der Umgebung, einige verlaufen z.T. parallel mit BVL.
Im Westen um Halmstad herum Hylteslingan. Im zentralen Alvesta ist der Anschluss an Sverigeleden (der Schweden Route) u. etwas weiter südlich Kronobergstrampen u. Åsnen Runt. Hylteslingan hat von Halmstad aus eine längere Strecke am Bahndammweg entlang, u. Sverigeleden hat zwischen Alvesta u. Torne samt zwischen Hovmansbygd u. Svängsta die gleiche Beschilderung wie BVL. Kartenmaterial über die meisten dieser Fahrradwanderwege kann man bei SCS bestellen.