Unna dig några extra dagar i natursköna Tingsryds kommun!
Med 200 sjöar finns här ett naturparadis som inbjuder till bad, fiske och kanoting. Här finns vida skogar och ett brett utbud av campingmöjligheter. Varför inte besöka Getnö Gård eller Tingsryd Resort, som ger upplevelser för hela familjen. Här finns aktiviteter som passar för alla i familjen.
Som besökare i Tingsryd med omnejd erbjuds du många fina platser att bo på. Kontakta turistbyrån för hjälp med att hitta just ditt boende.
Området erbjuder ett underbart landskap, lagom kuperat och som gjort för att cykla eller vandra i. Det är tätt mellan sevärdheterna och sjöarna erbjuder sommarsvalka varhelst du befinner dig.
Varmt välkommen till Tingsryds kommun. Vi hoppas och tror att du får med dig många fina minnen hem.



Welcome to Tingsryd municipality
The forests and lakes are just around the corner, but still we are located close to large town like Växjö and Karlshamn. Many fall in love with our very attractive landscape, of which we are justly proud.
With 200 lakes we are a natural paradise that invites to swimming, fishing and canoeing. Here are forests and a wide variety of camping opportunities. Why not visit Getnö Gård or Tingsryd Resort, which offers experiences for the whole family. There are activities that will suit everyone in the family.
As a visitor in Tingsryd municipality offers many fine places to stay. Contact the tourist office for help to find your accommodation.
The area offers a wonderful landscape, moderately hilly and that made for cycling or walking in. It is tight between the sights and lakes offer coolness wherever you are.
We hope that you will enjoy your stay here and that you are going to be able to take lots of beautiful and fond memories back with you home. Welcome!
Willkommen in Tingsryd Gemeinde!
Die Wälder und Seen sind gleich um die Ecke, aber immer noch sind wir in der Nähe von großen Städten entfernt wie Växjö und Karlshamn. Viele verlieben sich in unsere attraktiven Landschaft, auf die wir zu Recht stolz.
Mit 200 Seen Wir sind ein Naturparadies, das Schwimmen, Angeln und Kanufahren einlädt. Hier sind Wälder und eine Vielzahl von Camping-Möglichkeiten. Warum Getnö oder Tingsryd Resort, das bietet Erlebnisse für die ganze Familie nicht besuchen. Es gibt Aktivitäten thatwill jeden Geschmack in der Familie.
Als Besucher in Tingsryd Gemeinde bietet viele schöne Plätze zum Verweilen. Kontaktieren Sie das Fremdenverkehrsamt, um Hilfe zu Ihrer Unterkunft zu finden.
Das Gebiet bietet eine wunderbare Landschaft, mäßig hügeligen und das machte für Fahrrad oder zu Fuß in. Es ist eng zwischen der Sehenswürdigkeiten und Seen Opfer Kühle wo immer Sie sind.
Wir hoffen, dass Sie hier Genießen Sie Ihren Aufenthalt und dass Sie gehen, um Piloten zu nehmen von schönen und Fonds Erinnerungen mit nach Hause. Herzlich Willkommen!


Läs mer på Tingsryds kommuns hemsida www.tingsryd.se
Hälso- och gourmetvandring på Korrö.
Health and gourmet tours at Korrö.
Die Gesundhetis- und gourmetwanderungen auf Korrö.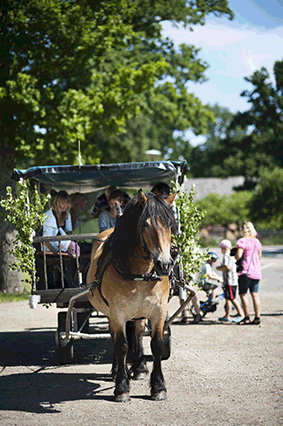 Börjes erbjuder hästskjuts hela sommaren mellan Tingsryds centrum och Tingsryd Resort.
Börjes offers horse all summer between Tingsryds center and Tingsryd Resort.
Börjes seine Touren täglich den Wagen zwischen Tingsryds Resort und dem Centrum ziehen.


Paddling i Åsnen är en fantastisk upplevelse! Här går Värendsleden – en kanotled från från Asasjön i norr, genom Helgasjön, Salen och Åsnen ner till Mörrumsån i söder.
Kayaking in Åsnen is a fantastic experience! Here goes Värendsleden - a canoe route from Lake Asasjön to the north, through Helgasjön, Salen and Åsnen down to Mörrumsån in the south.
Kajakfahren in Åsnen ist ein fantastisches Erlebnis! Hier geht Värendsleden - eine Kanuroute vom See Asasjön nach Norden, durch Helgasjön, Salen und Åsnen auf Mörrumsån im Süden.


Tingsryds marknad går av stapeln i slutet av juli varje år. En riktig folkfest med ca 300 knallare!
Tingsryds market takes place at the end of July each year. A real festival with about 300 stands!
Tingsryds Markt findet am Ende des Juli eines jeden Jahres. Ein echtes Fest mit über 300 Ständen!


Äppelblomningarna kring södra Åsnen är väl värda ett besök. Här finns unika ängsfruksodlingar som är av riksintresse.
Apple blooms on the southern side of Lake Åsnen is well worth a visit. There are unique meadow fruit orchards here which are of national interest.
Apple-Blüten auf der Südseite des Sees Åsnen ist einen Besuch wert. Es gibt einzigartige Wiese Obstgärten hier, die von nationalem Interesse sind.


Kurrebo idé- och visningsträdgård erbjuder en upplevelse för blom- och växtälskaren.
Kurrebo idea- and display garden offers an experience for floral- and plant lovers.
Kurrebo Ideen- und Schaugarten bietet ein Erlebnis für blumig und Pflanzenliebhaber.


På Kvarnen i Knällsberg kan du fika eller äta en lättare lunch och uppleva en mycket vacker natur.
At Kvarnen in Knällsberg you can drink coffee or have lunch and experience a very beautiful nature.
Bei Kvarnen in Knällsberg man Kaffee trinken oder zu Mittag essen und erleben Sie eine sehr schöne Natur.